Every time a member of a prominent Indian family gets married, the decorations don't stop and the whole city is decorated. Large banners hang on the blank walls, garlands of flowers from the terrace railings and pretty lanterns and lights from the trees, while colorful patterns decorate the floor. Melodies of shehnai or sitar can be heard everywhere and the aroma of sweets and oil lanterns fills the air. "Deck up the whole town like a bride," they call it.
When I left India, I was a bit nostalgic, wanting to leave all this behind. So you can imagine how surprised I was that this also exists in Germany, just in a different form. Instead of banners and garlands of flowers, fairy lights and glowing street names decorated the inner cities, while glittering ornaments replaced colorful patterns. And instead of shehnai and sweets, here I am listening to Christmas carols and enjoying the smell of gingerbread in my nose. Basically, it is the same festive joy that I know from India – shared celebrations and the power of good spirits.
Of course, that was before the pandemic. The sad reality is that nothing is going to change anytime soon. But one of the things humanity is good at—and I hold on to it, even though I'm the last of our species to believe it—is to have hope. If you give us lemons, we'll make lemonade. And even if we get a pandemic raging around the world, I think we can still turn it into something akin to lemonade.
Read on to find out how I rediscovered Christmas this year and what you can do to keep the magic alive – from afar, of course.
First impressions
I grew up in a Hindu country and all my ideas about Christmas come from Hollywood. These movies always portray Christmas as a magical time where, of course, only good things happen. So, of course, I always thought that every Christmas was a white Christmas, and if it didn't snow on Christmas Day, the first snowflakes wouldn't fall until everyone was snuggled up by the fireplace at the latest. I also thought that all the kids would wake up in the morning and shout "It's Christmas" before running down the stairs and starting to unwrap presents. For a brief period of my childhood, I believed that as a naughty and disobedient child, your family would leave you home alone at Christmas and you would have to fight robbers while everyone else went on vacation.
The older I got, the more American hyperbole crept in and I could collect my own first impressions of the Christmas season. Interestingly, my first experience of a German Christmas market was not in Germany, but in India! The market was organized by the German Embassy in New Delhi and when I entered I really had no idea what was waiting for me there. Illuminated stalls and cottages selling all sorts of crafts and crafts, lots of sweets and snacks and of course beer. In the middle of the marketplace stood a huge Christmas tree, nearly twenty feet tall, decorated with ribbons and angels and more. Even if the tree wasn't so beautifully decorated, one way or another, I might be amazed by the fact that you can even find a Christmas tree in India. This place exuded a charm that could be felt throughout the evening. I remember wondering what a real Christmas market in Germany looks like. Little did I know at the time that I would find out four years later.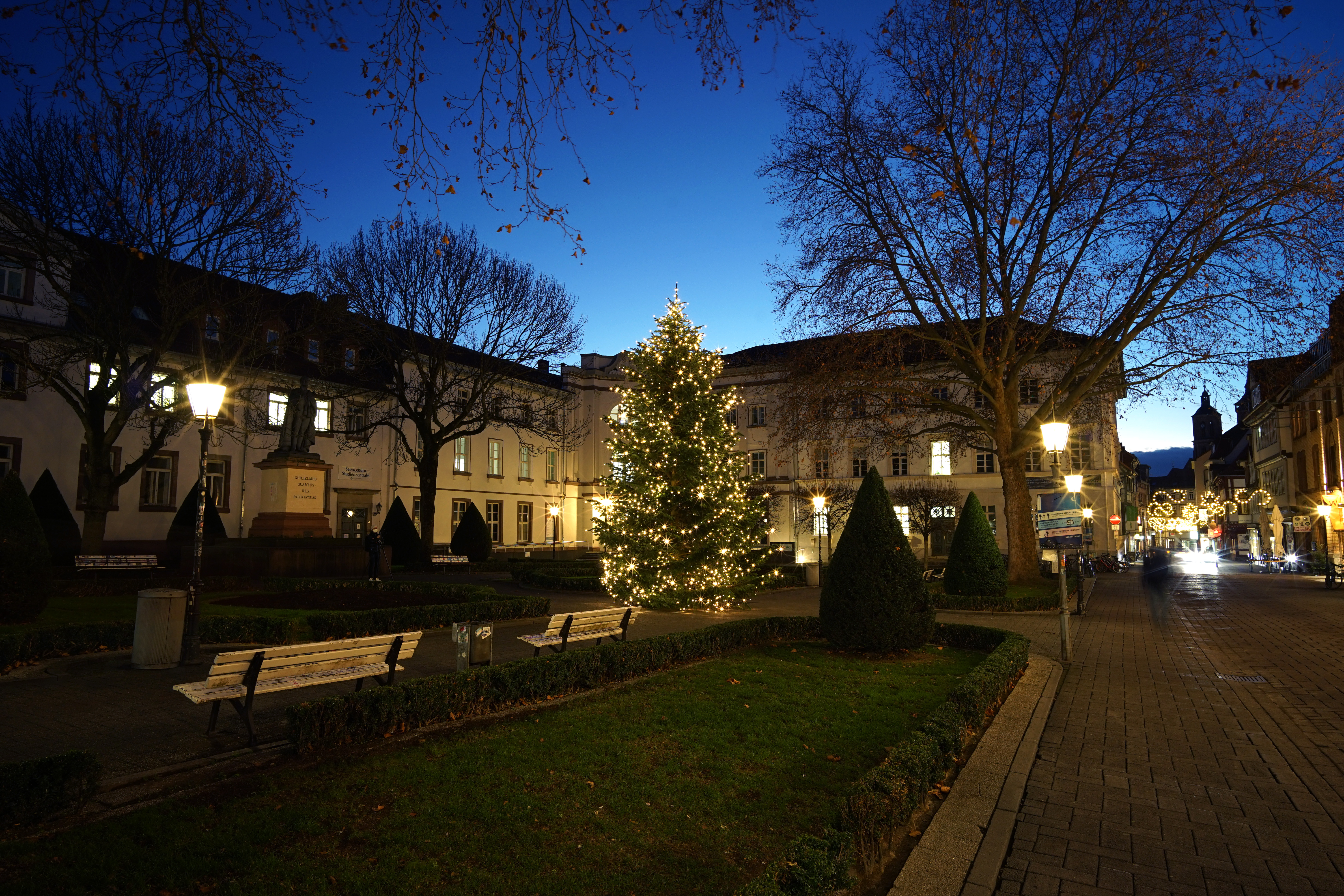 Christmas in Germany
The dawn of the Christmas season begins slowly and steadily. The city's preparations begin as early as November, and by the time December 1st rolls around, all the signs of Christmas will be everywhere. It is not only these grandiose decorations and countless little lights that frame the city, but also these small gestures, like every joyful "Merry Christmas" and small chocolate bars that one receives so euphorically while shopping.
One Christmas tradition that has become one of my favorite traditions is the advent wreath. On each of the four Sundays before Christmas, another candle is lit on the wreath. Above all, it's a beautiful concept because it gives you an extra boost of Christmas spirit every time, and candles are also a symbol of the light that Jesus brings to believers.
My favorite tradition even before the advent wreath is the advent calendar. Material considerations aside, it's a really nice countdown to Christmas. A calendar becomes even more special when a loved one puts their heart and soul into it and gives you their own, personally assembled one.
If you miss the normal Christmas market in Göttingen or you are an international student like me and wonder what the market usually looks like – here it's a super nice video!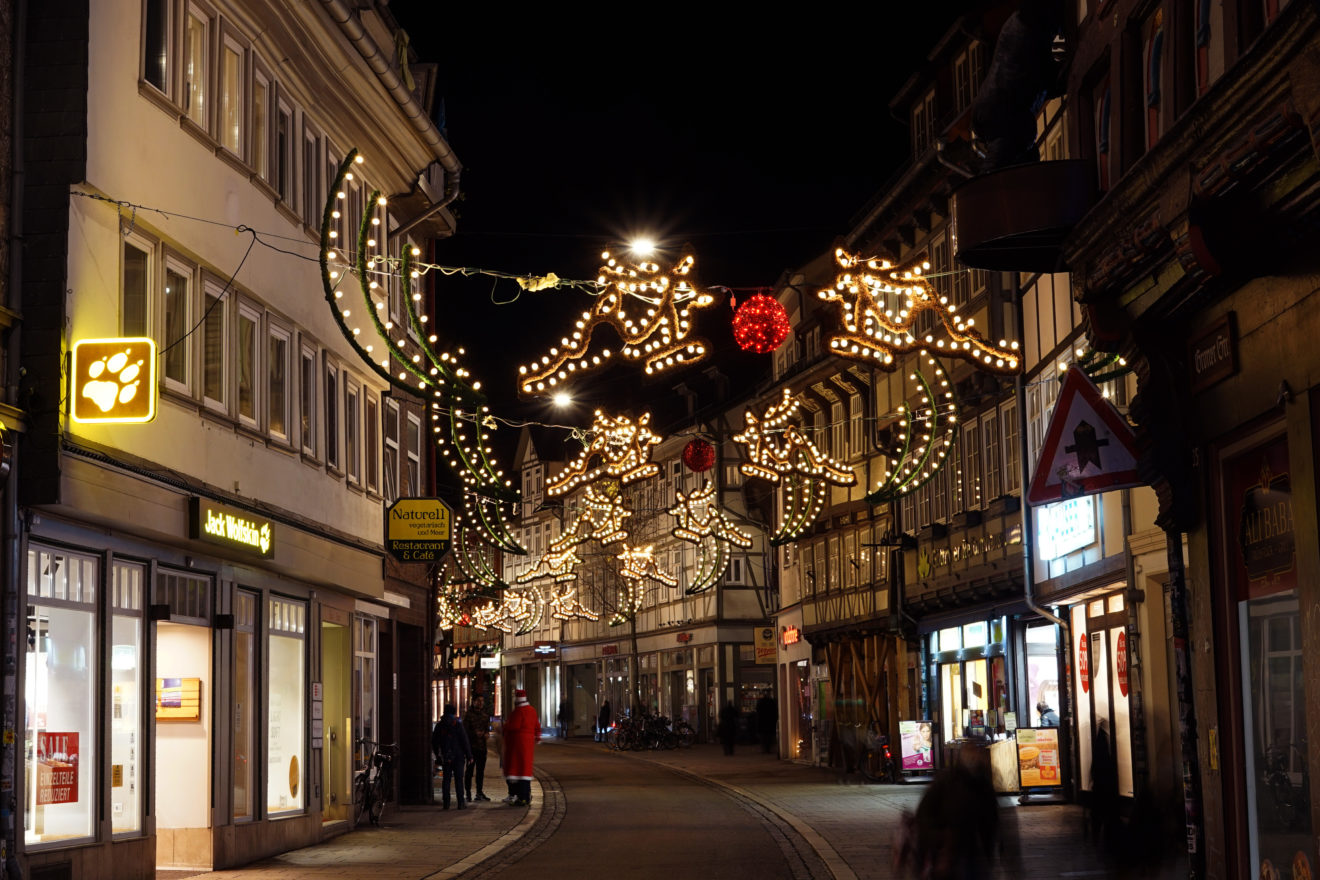 Christmas in Corona times
So what should you do this year? Just because times aren't rosy right now doesn't mean everything has to be!
Unfortunately, there are no stalls at the Christmas markets this year, but you can still admire the beautiful decorations in the city! And if you want to make it even nicer, you can simply create your own Christmas playlist and enjoy walking through the city center accompanied by music.
What I'll be doing this Christmas: Bringing my own mug of mulled wine and hitting the town (Editor's note: The text was written before the Corona-related public alcohol ban, but cocoa works too!) . Then I put on my very favorite Christmas music (Jingle Bell Rock and Oh, Christmas Tree, in case you were wondering) and take the time to soak up all that the city has to offer. I walk up to the big glittering tree in front of the old town hall before checking out the prettiest decorations (the reindeer on Langen-Geismar-Strasse are my favourites). Then head to the town library by the old SUB and look at the town's beautiful giant advent calendar mounted on the facade of the house. Each of the windows is decorated with wreaths and paintings and is illuminated when it is its turn. So I can't wait for all 24 to light up tomorrow!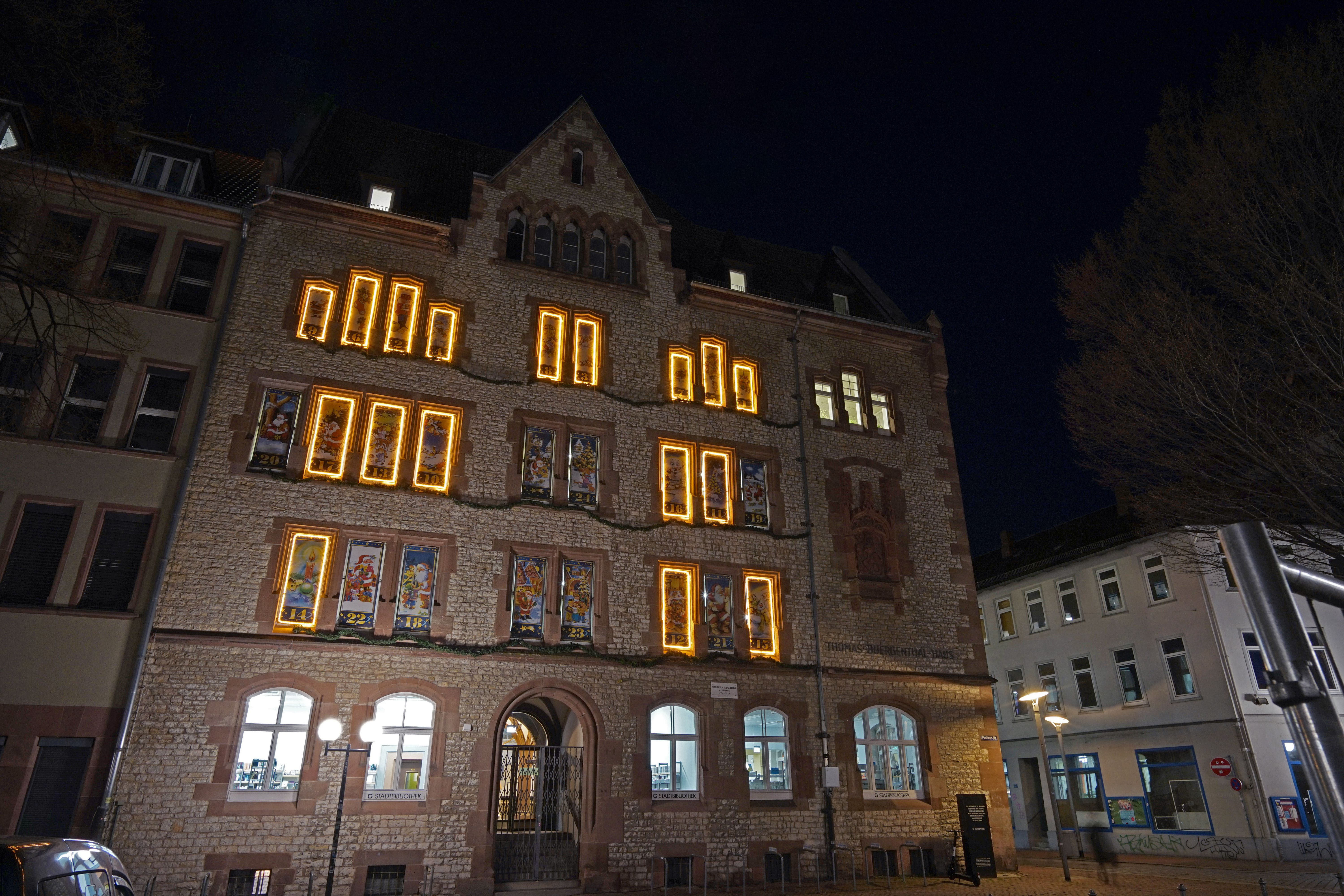 After the advent calendar, I'll take a little walk around the city and evaluate the crazy year. When my heart is filled with Christmas decorations and festive cheer, I return to the old town hall. This time, I'll go straight to the tree, stand under it, marvel at the glittering mass of green and gold above my head, and be thankful that there's at least a little Christmas in the air this year. 2020 was incredible in every way. Most of all, it has been extremely challenging for all of us and has turned our entire lives upside down in ways we could never have imagined. We had to deal with being alone as much as possible, which taught us how important all the people around us are. Even if you are standing there alone under the tree, remember, it is all to protect your loved ones because they are doing the same for you. And while you're there, take a nice photo to remember how far we've come and how resilient this year has made us.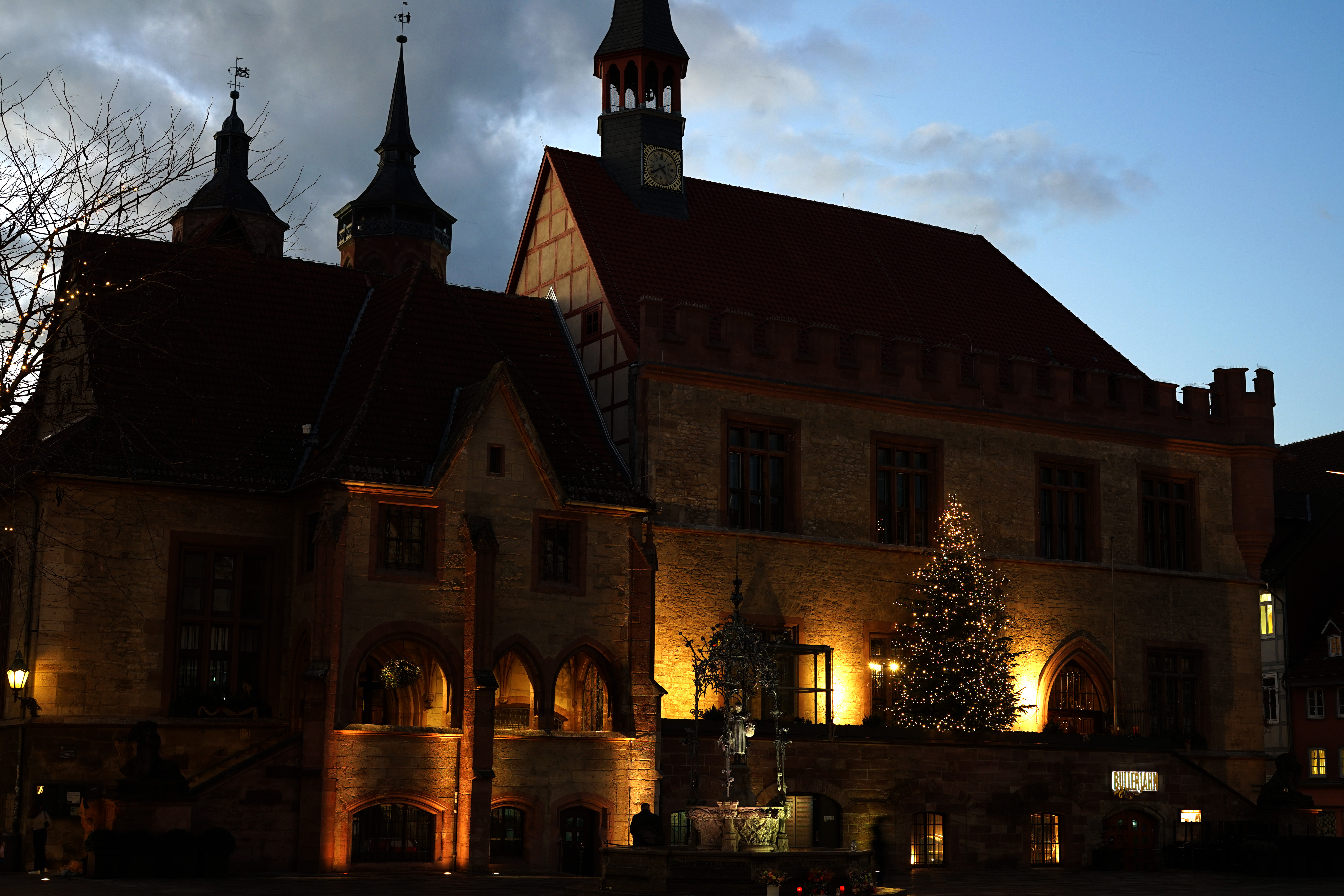 I hope you were able to rediscover Christmas this year as much as I did, and on that note I wish you a Merry Christmas!