It's early, it's dark, it's cold – I'm not an early riser and I don't want to be a member of the legendary "It's so much better to get everything important done in the morning" club. However, this Wednesday morning I have a mission that is actually worthwhile: I have a corona test done. No, I have no symptoms, nor have I been in contact with anyone who has. The great thing about CCS is COVID Campus Screening is that you can always and above all get tested there for free and that you usually get the result on the same day.
I signed up for my test three days in advance here registered. Registration couldn't be easier: Login details are the same as for eCampus, i.e. first and last name (what comes before the @ in your university email address) plus the associated password. After providing contact information, I can choose where I want to take the test. You can choose between the North Campus and Mensa Italia, other free slots will be displayed there immediately. Depending on the workload, with a bit of luck you can even make an appointment on the same day. With vigor and insouciance, I decide on Wednesday mornings at 8 am to "have a reason to get up early, because then I will definitely be super productive". We'll see.
After that, I receive an email with a QR code that I have to scan on the spot. Now, like almost every other day for the past 11 months, I'm seeing as few people as possible to reduce the chance of infection and a false negative. But if I've learned anything, it's how best to isolate yourself.
The street is still swept in the morning, the sun is slowly rising. The bitterly cold air immediately hits my face, but after five minutes of brisk walking, I feel my body slowly waking up. Actually not that bad. 20 minutes later I'm queuing outside Mensa Italia, which is now a dystopian-looking testing center. Another reason for my early appointment: Avoid the crowds. However, the lock-like system ensures that regardless of the number of people waiting, you come into contact with as few people as possible. So I could sleep longer…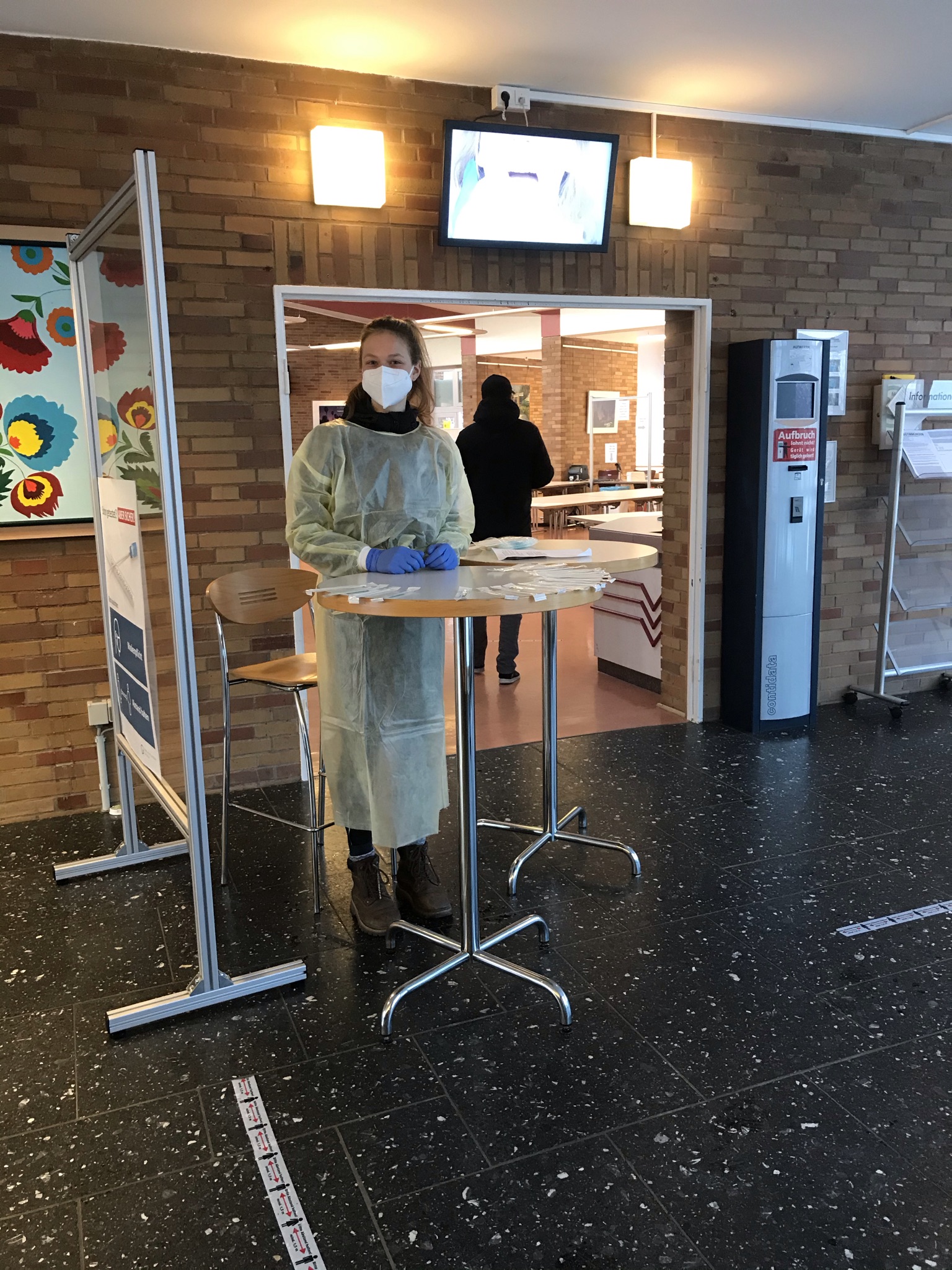 The reasonable implementation of the center is also extremely fast: Over 10 people waiting in front of me, I'm at the "reception" in a few minutes, where an employee greets me in a friendly way and hands me the test, which is a shrink wrap wrapped in plastic. When she asked if I was already familiar with the process, I shook my head nervously. It got pretty warm here with my winter jacket, hat and mask. "It's actually quite simple. You take the stick and put it under your tongue for at least 30 seconds. The helpers at the front will let you know when you can give it to them. When you take it out, be careful not to touch your tongue or lips with it." Ok, so I put the long cotton swab under my tongue and followed the instructions of another nice employee (how can everyone be so nice so early? in the morning?! ) , which points to one of the two testing stations—yes, that's what you call it now—where I should stand in line. I'm still counting the seconds in my head. With my chopsticks in my mouth, I first scan the QR code on my mobile phone in front of the helpers behind the Plexiglas and silently nod to myself. "30 seconds?" I signal "yes" with my eyes and carefully pull out my stick. They take it and wave at me. "Have a nice day!" Okay, I really didn't expect it to go THAT quickly. The whole queue, wait, wand in, wand out process took only 5 minutes (of course this can vary depending on capacity, so no guarantees).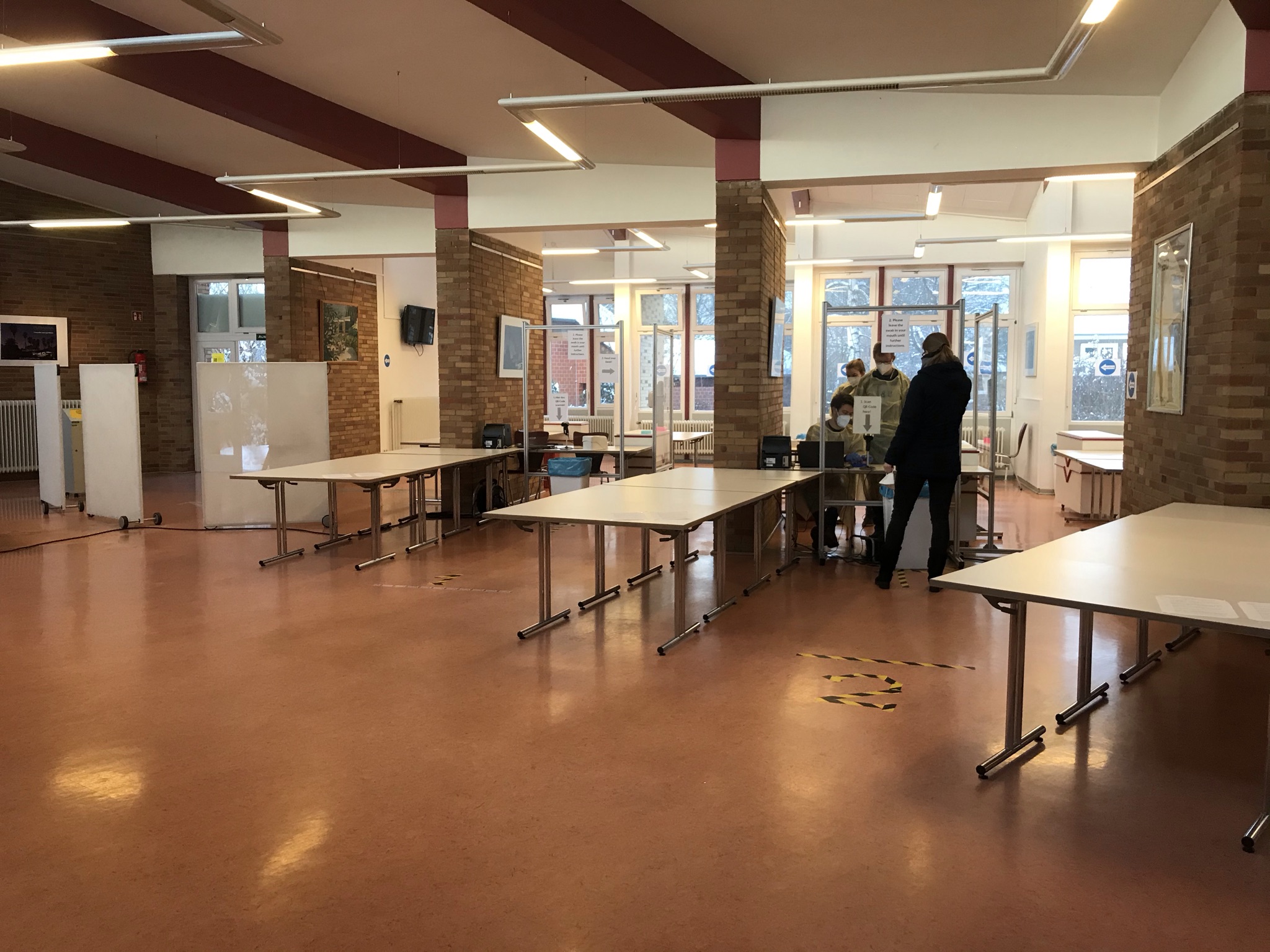 The strange feeling won't let me go completely. The helpers on site wear full-body suits and, of course, safety masks, and although you should get used to the sight, I still find it terrifying to find myself in such a dystopian atmosphere. The catchphrase "If only someone had told us this a year ago" keeps coming back to me. Despite this lingering uneasiness, in which I am certainly not alone, I am reassured by the brief reassurance I receive from the test. Even if it is just a snapshot (!) and you are in no way exempt from preventive measures (!!!), regular tests can protect you from, for example, asymptomatically positive movement in the supermarket. In our shared apartment for 2 people, you will definitely be relieved after every negative result that comes by email a few hours after the test. Because even if you can't see anyone outside of your own household, that brief security in your own isolation bubble feels good. That's why we now have a test every week.
The CCS project was created in cooperation between the Max Planck Institute for Experimental Medicine and the Max Planck Institute for Dynamics and Self-Organization. Above all, unknown infections should be avoided so that you can isolate yourself in case of (possibly asymptomatic) illness. If the CCS test is positive, it will be retested at the UMG Medical Microbiology Laboratory. If the infection is then confirmed, you and the health department will be notified immediately.
There's no reason I shouldn't take advantage of this offer. Monday through Friday, slots are offered at two test stations from 8:00am to 10:30am, so you don't have to get there as early as I did. However, and I have to be honest, getting up early has been so good that I now take a test every Wednesday morning at 8am to force myself to make an early walk to Mensa Italia. So two birds with one stone. Afterwards, you feel fresher and much more productive (crap).
You can find more information about the test and registration here.